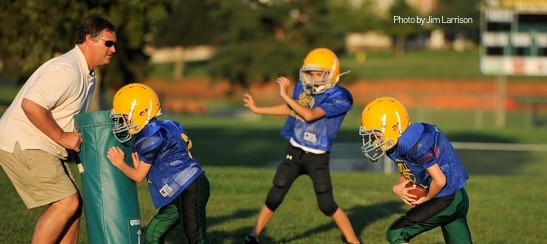 Training Camp — Functional Fitness
With training camp just ending and football season just beginning, now is the time when you're looking to round off your game shape and to maximize your strength. You might be thinking this is the year you'll lead the league in sacks, or perhaps you've added a stiff arm to your repertoire.
The ever-increasing desire for strength and quickness can have its limitations, however. Your muscles in one area of the body influence the mobility and function in other areas of your body. Meaning, while it's important to get stronger and quicker during training camp, you need to approach it the right way, or you might not experience peak performance.
Football Function
The big question for a football player, then, becomes, "What exercises replicate the actions I will perform on the football field?" This means the movements and exercises of an offensive lineman will differ drastically from a quarterback. Improvement in performance comes from training movement and function using the same types of contractions and loads you'll see in performance.
The key differentiator is defining the aspects of balance and control in the movements your specific position requires.
Getting Specific
So what are some techniques you could consider for football functional fitness?
First, consider that all movements should be performed with bodyweight only. Adding weight or resistance to movements you cannot control with bodyweight is a recipe for injury.
Consider an offensive lineman. Footwork is important while maintaining excellent core stability. One way of increasing functional fitness is monster walks. These are lateral walks with a resistive band around thighs as you simultaneously perform double arm chest press. These exercises are designed to give the lineman balance and stability while maintaining power.
Now consider a defensive back. Footwork and hip mobility is critical, while moving backward! Now, we must think of muscle and joint function in reverse order. Try reverse step ups on a 4" step with alternating pivots at the top of the step, working retrograde hip and lower leg function. Perfecting these types of exercises contribute to the cornerback's ability to mirror wide receiver routes no matter the cut or explosive burst.
In both instances, the exercises keep everything functional and three dimensional, keeping feet on the ground and providing variability. Gaining neuromuscular control is critical to progressing in your sport, position, tasks, agility and mobility.
When the season starts, you want to hit the ground running. The way you train will play a large part in optimizing performance and limiting chances of injury. Get balanced. Get strong. Get explosive.