Testimonials
We have developed many profound relationships over the years. We look forward to many more.
With these testimonials, see a sample of the many relationships we have developed below.
---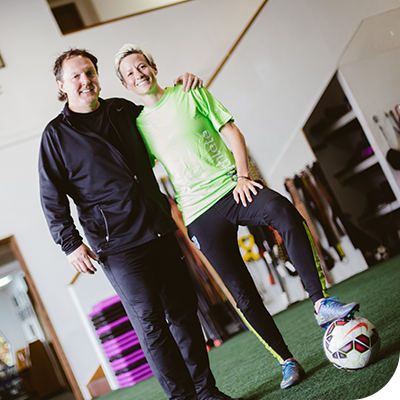 Justin Helwege: Professional Football Player
As a football player, I am told every game I play is the equivalent of a car crash—this doesn't include the practicing, performance training, and weight lifting. Over the last 6+ years (from high school, through college football and still today), I have trusted Brent George with my physical therapy to help me prepare and repair from the usual injuries that are a part of the game. In the field of sports medicine, there is no one I would trust more. I highly recommend Brent. He'll get you back to 100%—fast!
Doug and Susan Wheeler: Parents of a Pro Athlete
As parents, nothing is more important than the health and well-being of your child. From our son's high school sports days all the way through his college football career, we have trusted Brent George to provide him (and us) professional sports medicine advice and physical therapy treatments. We cannot say enough about Brent's expertise, personal care, and responsiveness to his patients. Brent has treated our son as his own, just as we believe he treats all his patients. We hold Brent in the highest regard and would recommend without reservation.
Evan Davis: Former Professional Golfer
When I was a golf professional, Brent not only helped me recover from a shoulder injury, but also developed a strength and conditioning program tailored specifically for golf. It was an added bonus that he always had great music rockin' in the clinic.
Marsha Powers, Parent of a G4 Athlete
We couldn't be happier with our experience at G4 Athlete! The facility is new, current and inviting. When our son sprained his ankle a week before a big game, G4 found an appointment time for us quickly and then methodically assessed his injury. Brent George was so encouraging and explained each step of the recovery process in a way our son could understand. Brent made him feel so comfortable and kept him engaged with a great sense of humor and knowledge of how to connect with kids. They talked sports and my son barely noticed his injury. Brent set up a comprehensive recovery plan that could not have gone smoother. We have complete confidence in recommending Brent George and the G4 Athlete clinic!

Michael Kane, MPT, MOMT, FAFS: Physical Therapist
Brent George has spent years preparing himself to deliver and serve our youth. He is an excellent clinician and serves as a resource for the University of Washington, the Seattle Seahawks, and the Seattle Mariners. His physical therapy skills have helped him serve many of the top athletes in the Seattle area. He is an excellent educator and motivator as I have had the opportunity to witness while teaching alongside of him at the University of Puget Sound School of Physical Therapy over the last 5 years. He believes that every person is composed of mind, body, and spirit and that each of us possesses a certain level of self knowledge in each of these important realms. He understands the medical challenges our children encounter today in face of the obesity epidemic and he also understands the importance of proper biomechanics, strength, and power as the basis for high level athletic performance. He believes that our children are our bridge to the future and looks at every child as having the potential to improve themselves mentally, physically and spiritually. G4 Athlete is a program aimed at giving each child the opportunity to develop and reach their highest potential.

Christie Galitsky, PhD, Outdoor Enthusiast
Yesterday I summited Mt. Baker. It was a really big step for me. It's a 10,700 volcano in the north cascades that involved: two really really hard days of being on my feet, climbing over 7000 vertical feet in those days, and then back down those more than 7000 feet, hiking in my sneakers and/or mountaineering plastic boots with and without crampons for over 5.5 hours the first day with about 55-60 pounds of weight on my back to base camp, climbing to the summit on day two in snow, back down to camp, then out the remaining 4000 feet with 50 pounds on my back — nearly 11 hours on my feet with few rests.

The best part of the trip — I have no pain today in my feet! woohoo!!

I thought of you many times over those two days, so grateful to have met you and gotten to get advice and PT from you. Your help over the last year has gotten me to this place more than anything or anyone else has. And your encouragement kept me going through a lot of tough training that I stuck to religiously. I know that helped out my legs, as they were never tired throughout the 2 days! I know I couldn't have gotten here without your help. And so I wanted to say thanks! You've given me my life back. It's really great to be alive and healthy again.

Barry Odom: High School Track Coach
Not only have I personally encountered the amazing expertise and experienced care for my own sports injuries through G4 and Brent George, but as a high school track coach, I have sent several athletes and families to see Brent. Many had already seen other physical therapists with little to no results. Brent and the staff at G4 had the athletes healthy and competing with no pain. In addition, Brent spends a lot of time helping you understand how injuries occur and how to avoid them in the future. One athlete thought her season might be over and Brent helped her recover in time to be a state champion. It always feels like Brent is personally invested in getting you back to experiencing the life you were meant to live!

Laura Ames: Parent of a G4 Athlete
Thank you for your thoughtful comments about Dylan. He's a neat kid and we're super proud of him.

I was sincere about how pleased we are with your PT work with Dylan. But to expand on that, I want you to know how impressed I am with your practice. What really stands-out is the positive energy, your staff, and the total health and athletic focus. There are so many physical therapists out there today, and probably lots of very good ones. But you guys really are pros. I appreciate your expertise and experience, approach and the overall environment at G4. We're so glad to have found you.

Chris Twardzik, Long Distance Runner
For the first time in many many years I have found a place that truly "gets it". I was referred to G4 Athlete by my knee doctor several months ago and I have been going to G4 regularly – 2 times per week ever since.

Within the first 15 minutes I quickly realized this was no ordinary place, nor was Brent George an ordinary PT. I am a long distance ultra-runner who has been plagued with a few imbalances and knee injuries. This whole time with being injured (and for years previous) I knew that I had some imbalances that would lead to injury. All other PT's failed to locate these imbalances and therefore I never got to the root cause of the issue. Within 15 minutes Brent found the imbalances and instantly got me on a plan to remediate them. My progress is through the roof and we are at the point where I can run again. I love coming in to G4 as they make you feel like their only client and the movements and workouts they give me are top notch. If you are a competitive athlete or a weekend warrior I cannot recommend this place enough. I'll be a G4 athlete for life as you always have to be proactive if you want to stay ahead of the injuries.

Gustavo Benitez, Owner/Trainer Benitez Elite Performance
First, I wanted to thank you for all your help and attention. You've been awesome in helping me get closer to the level of athleticism I had prior to my injury. It is always a great experience every time Im at G4. You and your staff have created an amazing environment; an environment that enables patients to see the light at the end of the tunnel. Your passion and level of professionalism inspires me not only in my rehab but in my own passion for helping others. I have learned so much from you already as a patient, and as I embark in my own mission of helping others maximize their potential, I would love the opportunity to have you as my mentor.