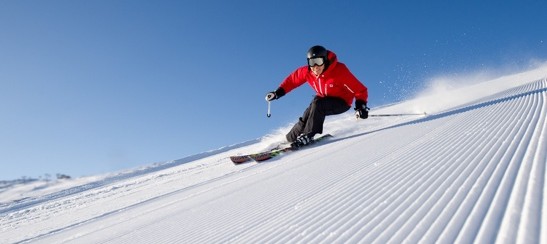 How to Warm Up Your Body for Skiing
All too often we see it; we jump out of the car, walk to the chair lift, and head up the slopes without ever thinking of warming up in preparation for skiing. Even for the most recreational of skiers, such a process is a recipe for injury, even if you've avoided one so far.
Are there any quick and easy ways to warm up for skiing?
There sure are!
Warming up and stretching is an important aspect to perform before you hit the slopes. No matter your skill level, be sure to include some of these principles when you arrive at the mountain.
Warm Up
To start, you'll want to warm up. The best time to stretch your muscles is when they are warm and relaxed. Given the temperature, and the fact you've more than likely been sitting in a car for a couple hours, start with a general warm up. A brisk walk or jog should do the trick for most recreational skiers, while a longer run may be more helpful for experienced athletes. The purpose behind these activities, first and foremost, is to get the blood flowing throughout your body preparing all the muscles you'll be using on the slopes.
Stretch
Once you've warmed up, begin performing dynamic stretches. These stretches work the muscles in fluid movements you will perform during your skiing. They might include lunges, trunk rotation, arm circles, jumps, standing leg swings, etc. Dynamic stretching is a critical component to undertake before hitting the mountain because it prepares you for the activity you are about to do by engaging in movements and patterns you will be doing on the slopes. The benefits of dynamic stretching move beyond the warm up or the increase of circulation. They also help with neuromuscular training, joint mobility, and coordination of motion. The movements of dynamic stretching correlate with the movements you are about to do and they better prepare you for an enjoyable day on the mountain.
In all, this process doesn't need to take more than 15 minutes.
Take a Practice Run
After you've accomplished a warm up and some stretches, go ahead and put those skis on. But, I would caution jumping on the chair lift to the black diamond slope. For your first run, take an easy slope and practice the basic skills like stopping and turning. Such a run might feel pedestrian, but it's generally a good idea to go through the motions and get your feet underneath you.
Completing these steps should help you to avoid potential injury that might ruin your winter sports season. So the next time you head up to the mountains, keep in mind the warm up and stretching process. You might, in the end, enjoy your time on the mountain even more because your body will be prepared for the rigors you're putting on it!
Photo Credit: Trysil via Flickr/Creative Commons