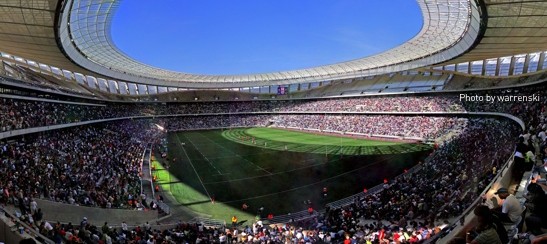 World Cup Take: Going 120 Minutes
With all these dramatic endings in the knockout stages of the World Cup, it's interesting to consider what it takes to pull through with the performance of your life on such a stage. Not only is it win-or-go-home, but you also face the potential of adding an extra 30 minutes of playing time if the teams remain level at the end of regulation.
Running for 90+ minutes requires a fair amount of fitness, to the point where players with minor injuries sit out a week and then require further time to regain fitness levels to last an entire game. But what do you do when extra time happens, and your coach needs a lung-busting run on a counter attack in the 119th minute?
Position Dependent
For starters, your fitness level and the movements you need to make over the course of the game depend on your position. Forwards have moments of rest when the other team attacks. Defenders have moments of rest when your team attacks. And midfielders must keep up the pace as they provide cover on defense and added pressure during attack.
When you train for full-match fitness, make sure the drills you perform prepare you for the tasks at hand. Much like a marathon runner doesn't train for a marathon by going out and running a marathon every day, a soccer player shouldn't go out and run for 90 or 120 minutes everyday to train for the match.
Finding Balance
In fact, research (McMillan K et al 2005) suggests running specific training exercises at 90-95% capacity for 4 minutes followed by a jog recovery period at 70% capacity is an effective strategy to improve maximal oxygen consumption without causing issues with strength, jumping ability, and sprinting.
Soccer is an aerobic and anaerobic sport. At times you need to be able to exert a high amount of energy very quickly to perform a task, while other times you need to reserve your energy to sustain performance over a long period of time. This is why you'll hear commentators talk about players picking their spots. If they run back and forth at full speed too often, there's no chance of the player lasting 120 minutes.
So when you train, make sure you balance the aerobic and anaerobic to best prepare your body for the match ahead. And even more, discuss strategy with your coach. When is the best time to boost energy and when is the best time to stay reserved? Position matters in such discussions, but even midfielders with the highest workload need to be wise about their use of energy.
The World Cup has given many examples of these aspects. Multiple teams put up valiant efforts during the match, only to see everything fall apart as energy reserves deplete. Proper training and sound strategy can get you through the 120 minutes. Get ready. Get resolute. Get balanced.