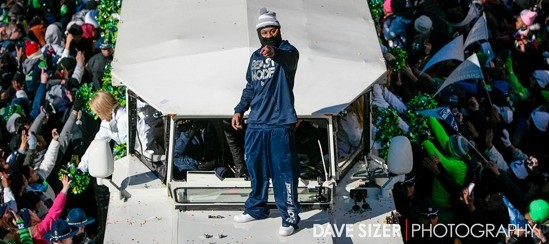 The Road to the Super Bowl
What a year for Seattle sports! After 38 patient years, the 12th Man can claim a Lombardi Trophy and the title of undisputed champions of the NFL. It might be new territory for Seattle but there are two things you better be certain of:
We'll be celebrating this victory all summer
The path the team took to get here is as important as the accomplishment itself.
If you dive into Pete Carroll's coaching philosophy and the strategies employed by this innovative organization, you'll see the 4 absolutes — functional fitness, sports biomechanics, nutrition, and mental edge — touching every aspect of this team.
Functional Fitness
Functional fitness comes out as a key differentiator in practice. The popular tendency in NFL practices is a focus on executing plays and running scrimmages. But the Seahawks have an unusual focus on basic drills, as noted by observers at Carroll's training camps.
The focus, here, is on practicing the right movements. It's about making functionality an action of muscle memory.
Sports Biomechanics
Spelled out brilliantly by ESPN, The Magazine's Alyssa Roenigk, Pete Carroll's return to the NFL meant a radical new way of running an organization. One key component of the team is Sam Ramsden, the Seahawks' Director of Player Health and Performance.
In this role, Ramsden looks for every possible competitive edge in sports science. He runs brain-performance testing to see how sleep and the external circumstances in a player's life are influencing his performance and ability to achieve goals. He screens blood panels to look for chemical imbalances that could suggest if a player's performance has to do with something off the field. He even tracks with GPS during practices to monitor workloads and compare them against sleep and conditioning profiles
Nutrition
The Seahawks team chef, Mac McNabb, is charged with providing the right balance of fuel for the players. He uses fruits and vegetables from local organic farms and sends leftovers to feed free-range chickens that he uses for Seahawks meals.
For Red Bryant, nutrition played a role in raising his performance:
"It's just amazing how food, something so simple, can play a big role in terms of an athlete. I just feel more alert, ready to go. You can't really perform at an elite level with that type of food I was eating all the time. It's going to wear you down. And you can't be in a better place than Seattle because they're health-conscious anyway compared to the South. It's just two different worlds."
Mental Edge
Finally, the Seahawks have developed a mental component to their organizational ethos. It all starts with Pete Carroll's "stay positive" mantra. From the same ESPN article, Roenigk discusses the importance of mental edge and the role sports psychologist, Mike Gervais, plays in creating the right mental space for the team.
Gervais works one-on-one with any willing player, helping them silence the mental space and working with them to visualize success. Players are also invited to meditate and they even conduct yoga sessions.
Putting It All Together
When functional fitness, sports biomechanics, nutrition, and mental edge combine, the result is an innovative organization with lofty goals to "Win Forever" as Pete Carroll likes to promote. There's still a long road ahead to winning forever, but the 4 absolutes forged a path to this city's first Super Bowl victory. Given the team's focus, let's hope for many more!